The Houghton Promise, a new initiative to communicate Houghton's standards and ideals, will be coming into effect this year.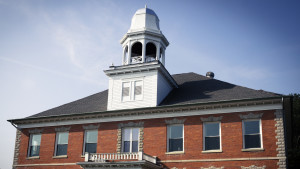 The initiative's five tenets seek to practically apply Houghton's mission statement: to provide "an academically challenging, Christ-centered education in the liberal arts and sciences to students from diverse traditions and economic backgrounds and equips them to lead and labor as scholar-servants in a changing world." As Ryan Spear, Houghton's Director of Admission, explained, "We wanted to package that mission statement into very concise, understandable benefits."  The five benefits outlined in the promise are affordability, academic quality, authentic spiritual formation, acceleration, and accountability.
The first tenet of the Houghton Promise refers to Affordability.  New to incoming students next year will be the Impact scholarship, which will provide students with $10,000 in scholarships over the course of four years.  "Finances don't need to be a barrier to come to a place like Houghton," said Ryan Spear, Director of Admission.  "Students don't have to choose between cost and quality.  They're going to get both here.  A lot of people are making short-sighted decisions when they go to college, one of the most important decisions of they'll make."  He commented later, "If all you want is an education, frankly, go somewhere else.  You can get that cheaper, but I mean cheaper in every sense of the word."  He explained that at Houghton "it's more about preparing the right kind of people and less about handing someone a certificate that's simply just a permission slip for a job."
Academic Quality, in addition to indicating a general commitment to excellence, emphasizes hands-on opportunities, such as internships and experiences abroad.  "The academic quality portion of the Houghton Promise reflects the kind of experience that we have always provided our students," commented Dean Jack Connell.  "We have always made high-impact learning practices like global engagement and student/faculty research a top priority.   So we don't have to change our academic programming to fulfill the Houghton Promise; that component of the Houghton Promise is simply an effort to communicate more clearly who we already are."  Spears added, "Something that's unique about Houghton that not many schools have is really the ability to take your learning and do something with it, so not just sitting in a
lecture hall and filling out a scantron, but actually doing a project,
something substantial"
The next element, Authentic Spiritual Formation, works towards "creating rhythms of faith and life" at Houghton.  "It's not just more church.  It's not like we're going to keep you safe from the devil," Spears clarified.  "It's about creating a living, learning community where Christian life is infused in all that we do."  Contrary to avoiding difficult topics, Spears described Houghton as a place where "we invite dialogue and questions.  We really want students to try all their ideas out while they are here, to really wrestle with them.  Because it's not keeping you safe for four years and then hopefully transferring you to another safe pocket for the rest of your life.  It's about preparing you for what's out there."
Acceleration emphasizes students' opportunity to graduate early.  "We already had some pathways for students to complete a degree in an accelerated fashion, what we're calling three year options," Spears said.  "We're moving that front and center."  He went on to explain that the focus will still be on giving students a complete education, meaning the accelerated program will not fit for all majors.  Spears added, "The point of college is to be prepared for the future, not to graduate fast."  For programs where there is room to graduate early, however, the opportunity will be offered more clearly to students.
One of the biggest changes the Houghton Promise will introduce falls under the final point, Accountability.  Advertising materials explain that, "If you are not employed in your chosen field or accepted into graduate school when you graduate from Houghton, you can come back for a bonus year without paying any tuition."  The extra year would offer a year to add new qualifications and become more marketable to employers or graduate schools.  "Houghton cares about its students," Spear said.  "We care about what happens to you after you graduate."
When asked for the reason behind the new angle, Spear explained, "We knew we wanted to do something big this year… As different people brought ideas to the table, they started to coalesce into a central package to make sure people knew it's not just any one thing that makes Houghton special, as anyone who goes here knows."  While the new Excelsior grant added urgency to the update, a major motivation was to find a statement that fit with what Houghton is.  "For a lot of people, the college decision is not made conceptually," Spears commented, "It's often more of the feeling that God's pulling their heart in one way or that they belong.  So we wanted this program to hit people in a way that would show them 'Wow, this place is serious about who they are and what they're prepared to deliver."