For Houghton students, Tyger Doell '19, Olivia Richardson '19, Nathaniel Dee '19, and Genevieve Hartman '19, Genesee Valley Central School has provided a valuable environment for present growth and future endeavors. This past summer, the school wrote a grant that allows Houghton education students to observe their classrooms if they help out with after-school tutoring.
Doell, Richardson, Dee, and Hartman are the only members of the Curriculum and Assessment course, taught by Professor Connie Finney, which meets every Monday and Wednesday. "Twice a week we go to Genesee Valley Central School after lunch, until the end of their school day, and then at 3 p.m. we help out with after school tutoring," Doell said.
Most of the teachers at Genesee Valley Central School are familiar with Houghton, and fond of Houghton students, so they welcome these four adolescent education majors to observe their classrooms. Having the opportunity to observe many different classes has proved invaluable to these Houghton students.  
"Observing a variety of teachers and teaching styles has been amazing," Hartman noted. "It's been so helpful to see outstanding teachers in many different content areas. Even though my content area is English Language Arts, I've learned so much by observing math, history, and science classes, as well as English classrooms. Many tricks of the trade can be applied to any classroom, and there is a huge pool of expertise to draw from at this school. It is just as beneficial to see teachers that have different teaching styles or standards for their classrooms because it helps me think through my own teaching opinions. I can look at a teaching method, and reason why I like or don't like it, so these experiences are also pushing me to grow and expand my thinking.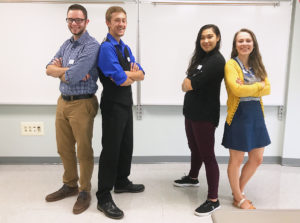 Richardson has also gleaned wisdom from observing various teachers in their different areas of expertise. "The most helpful part of this experience has been getting to observe teachers outside of our content area," she said. "It has reminded me of the connections between subjects as well as allowed me to see master teachers that I wouldn't have had the opportunity to learn from if I only observed English teachers."
Not only does this experience allow these students to learn from high school teachers, but Doell explained how tutoring has enabled them to also learn from each other. "I knew that all teachers have different styles of teaching, but it's odd to also think of your friends having different styles of teaching," he said. "It's been neat being able to observe each other in a classroom setting. For example, Nathaniel is vibrant and very engaging, and Olivia is very practical and thorough. It's fun to see how we've all grown and how our styles are all developing and how people use them to their strengths."
Doell, Richardson, Dee, and Hartman will continue to spend their Monday and Wednesday afternoons at Genesee Valley Central School until the end of the fall semester.
"It's been a fun way to get to know my peers," Doell said. "Overall, it's been a fantastic experience, and even in the times when we get exasperated, we know we're all in it together."