Professor Linda Mills-Woolsey will be offering her thoughts on the importance of creative arts in a her valedictory lecture, entitled  "Dangerous Arts: Reading and Imagination in a Post-Literate Era".  The lecture will take place in room 323 of the library on  November 30 at 04:25 p.m.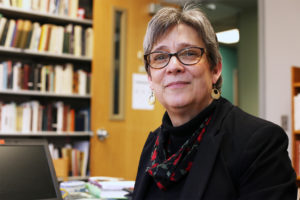 "I've been in school for 60 years.  I went to first grad and I never looked back.  Surely I learned something in that time," announced Professor Mills-Woolsey.  "The main challenge of the lecture is to not make it a rant."  The intention of valedictory lectures, according to Mills-Woolsey, is to reflect back on one's career or present a piece of SCHOLARSHIP.  She noted that she is not entirely doing either exactly, but rather focusing on the question "Why right now is there both so much dismissal of and suspicion of the more imaginative kinds of intellectual work?"
In her initial proposal for the lecture, she includes also a focus on "the decline of serious reading, the weakening of spiritual commitment, and the distrust of science".  She precedes her proposal with a quote by Carlos Ruiz Zafon: "Bea says the art of reading is slowly dying, that it is an intimate ritual, that a book is a mirror that offers us only what we carry inside us… and great readers are becoming more scarce by the day.  Every month we receive offers to turn our bookshop into a store selling television, girdles, or rope-soled shoes." In looking at the impact of a decreased interest in the imaginative arts, particularly reading, she mentioned there may also be connections to how we view truth, faith, and science.
Professor Mills-Woolsey admitted that a heavy focus of her lecture will reflect the focus of her career, literature.  She explained her concerns that some people hold the perspective that they will believe not what they actually think to be correct, but rather what they prefer to think is correct. She commented, "You would think that a society where people are proudly saying 'Oh, I don't read fiction' would be more attuned to truth and yet this is the era of fake news."
She later explained that finding truth allows us all to work towards "being what God called us to be- how dare we neglect it- on the individual level, but also on the social level."  When explaining her inspiration for her lecture topic, she referenced a survey from the PEW Research center that found more Americans view higher education with suspicion, even thinking it a danger to society.  She commented there may be reason to believe the weakening of faith and science may parallel the decreased interest in imagination.
"So how do we live the fullest human life?  That's what I'm most interested in."  She continued,  "People want education that will lead to money and you don't have people saying 'I want the best life I can have.  I think in the age of the robot we need to be thinking about what that best life means.  And what are the skills that, at least for your generation, the robots can't replace?"  Professor Mills-Woolsey went on to explain that students rob themselves by only focusing on the skills they deem immediately marketable.  There is evidence that not everyone is satisfied only studying bits and pieces; they want to commit themselves to longer works, as well.
"It's easy to see things in terms of declension, that things are getting worse and worse and worse, and I think it's much more complicated than that," commented Mills-Woolsey.  "I think our society is in some intellectual and moral danger, but I think we have the tools to confront that danger if we want to use them."