It was a regular Friday night. The campus was abuzz with warm cookie night and live animals. A long-anticipated saxophone artist series featuring the incomparable Otis Murphy was coming to the Houghton stage, and a huge weekend of prospective students and a David Crowder concert was on the horizon. Students were excited, or apprehensive, toward the active weekend that lay ahead. Little did they know that crowded lunch lines were the least of their worries.
"I felt so helpless," said Joe Miner '18, a Resident Assistant in Rothenbuhler Hall. When describing the illness of a resident, Miner said, "He puked all night, and I couldn't do anything. I didn't know until the morning.  I could only give suggestions, and I also had to look out for myself." This was the reality for those on the frontlines of campus during, what students are now whimsically referring to as the "Houghton Plague of 2017."
It was not the first time that such a widespread illness had attacked Houghton's student body.
A similar condition—characterized by intense vomiting, diarrhea, sweating, stomach pains, and occasional visions of terror—struck Shenawana particularly hard during the fall of 2015. However, this strain appeared to even more severe. "I stood up (after the Otis Murphy concert) and knew something was very, very wrong," Derek Chase '19 recalled. Although Chase escaped to a friend's house away from campus, his night went steadily downhill. "I did do quite a bit of travel," Chase commented in an attempt at optimism. "Straight from the couch to the toilet." He placed an estimation of his total mileage at the distance from Houghton to Belfast.
With 140 cases confirmed on campus between Friday and Saturday evenings, survivors lived in fear. In fact, campus looked more like an episode of "The Walking Dead" than a bustling liberal arts institution. Signs around campus begged people to wash their hands, and bottles of Germ-X replaced Bibles as wards against evil. "I fled like Israel fled Egypt," Kylie Gibbs '18 said. "I prayed, I felt fear; in fact, I felt the sickness through fear." Of course, these anecdotes about the magnitude of the situation only give half the story. Most students were wondering : what caused it?
Several rather eclectic theories immediately sprung up as to the plague's cause. Libby Best '20 and Honus Wagner '20 wondered whether this was God's wrath towards Reformation celebration, as no Catholics on campus fell ill. Other students lightheartedly suggested a feminist motive, since men's residence halls were hit harder than women's—although Miner argued that men are simply more dramatic about illness and were not necessarily more susceptible.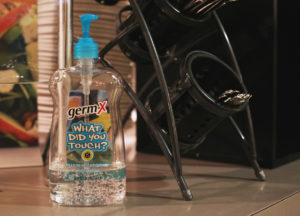 However, lab results received from the Allegany County Department of Health soon confirmed that 100% of all samples tested came back positive for norovirus. According to the Centers for Disease Control and Prevention, norovirus is passed when infected vomit or feces is accidentally transferred into the mouth. It is the leading cause of foodborne gastrointestinal illness in the United States, causing just over 90,000 emergency room visits each year.
While several students claimed to have become ill after eating undercooked meat, norovirus is most frequently caused when an infected person comes into contact with raw fruits or vegetables. The virus can also be passed on by eating or drinking substances already contaminated by the virus or coming into close contact with an infected person. While the virus is typically resistant to most industrial sanitizers, detergents, and safety protocols, its further spread can be limited through restriction of human contact.
In efforts to restrict the spread of the illness, dining hall staff who present norovirus symptoms have been asked to refrain from appearing at work for 72 hours. An email distributed from Metz Culinary Management to faculty on Monday, Nov. 13 also confirmed that Houghton's General Manager of Dining Services, Matthew Babbage, had chosen to leave his position "to pursue other interests." In the interim, Paul Krouse will serve as Metz's General Manager on the Houghton campus.