Senior Andrew Hutton '18 recently returned from a bagpiping competition, where he placed among musicians from around the world.  The Scottish Piping Society of London hosted the event.  Their news page stated that  "2017 saw a record number of over 100 amateur and professional pipers converge on London to take part in a number of ceol mor and ceol beag competitions.".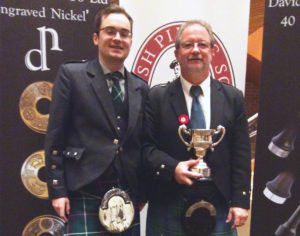 Hutton placed 3rd in the C-grade March,Strathspey, and Reel event.  His instructor, Bruce Gandy "was the aggregate winner of the Premier-Grade events, and also gains an invitation to the 2018 Glenfiddich,"
according to the the website Pipes and Drums.  The Scottish Piping Society of London named Gandy the overall champion piper and awarded him the Londonderry Cup.  Hutton explained he weekly receives lessons over Skype from Gandy, who resides in Dartmouth, Nova Scotia.
The competition began at 8:30 in the morning and concluded with an awards ceremony around 7:00 p.m., according to Hutton.  He also explained that "The Scottish Piping Society of London annual solo piping contest is considered the largest in the world with approximately 100 pipers from around the world."
Preparation for the contest began far before boarding the plane to England.  "Each competitor submits a certain number of tunes weeks prior to the competition," said Hutton.  "The judges select the tune and the competitor is then given this information minutes before they are set to play.  Usually you get a couple minutes to tune the instrument before playing the selected piece."  Ultimately, it is the judges' decision which piece the competitor will perform.  "Last week I competed in the C grade, which is the opening professional grade."
This isn't the first time Hutton has experienced success in bagpiping competitions.  "I won the Nicol-Brown Amateur Piping Competition in October 2016 in Scotia, NY and one of the prizes was airfare to compete at the London contest," said Hutton.  Houghton reported last year that he received the honor after placing first in the Piobaireachd event and 6/8 March categories and second for March, Strathspey, and Reel, the event in which he would place third for his London competition.
His experience with the instrument itself dates much farther back.  "I started playing the pipes when I was 8," said Hutton.  "My brother started before me when he was 15 and was inspired to take up the instrument after our grandmother, who always wanted her grandsons to play."