Houghton College field hockey has already made history this season and is looking to do something no Houghton team has ever accomplished before. Led by the the play of the Empire 8 Offensive Player of the Week, Nicole Jennings, the team earned the final berth of the Empire 8 postseason tournament with an overall record of 10-7 and a conference record of 4-3. It will be the first time that the team has ever made an appearance in the tournament. On November 3, the team will square off against the number one seed Washington and Jefferson; a team to which they lost to by a score of 1-0 during the regular season. "We are all really excited. We've improved a lot over this season and even over the last four years. We are really thankful for the opportunity and we really hope to represent Houghton well this weekend." Said senior Alyson DeMerchant. The team is taking it one game at a time. Looking at the big picture however, if they are able to win the conference tournament, they will go down as the first team in the history of Houghton College athletics to make an appearance in the NCAA Division III national tournament.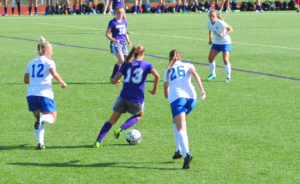 Men's soccer came to an end this weekend after a 2-1 loss to Nazareth College. The team finished the season with a 6-9-2 overall record and a 1-5-1 record in the Empire 8. The finish stings a bit for the team, especially those who have now played their last game as a Highlander. "Playing for Houghton College has been my childhood dream… I've always wanted to be a Highlander… Houghton soccer is so much more than wins and losses. It's a tradition and a brotherhood that will always be there for you. And it's hard to say goodbye to such a huge part of my life, but Houghton Soccer has given me so many opportunities to grow as a Christian, as a soccer player and as a teammate." Said senior captain, Jordan Mullen.
Houghton's women's soccer will also miss out on postseason play this year. After a 3-0 loss to Stevens, their 3-4-1 record in conference will not be enough to earn them a spot in the tournament. The team may not have made their way into the postseason this year but it was a hard fought season for a team which battled injuries and other obstacles all year long. They will look to finish their season out with a win against Alfred State on Tuesday October 31.
Houghton's volleyball season also came to an end over the weekend. The team took one of their three games beating Keuka and falling to Canton and Allegheny. Senior Naomi Prentice reached the milestone of 1,000 kills in here career as a Highlander. Her 17 kills on Saturday put her at 1,011 in her career.
At the Empire 8 championships, both Houghton cross country teams finished 4th out of 9. Both Shelby Langlois and Tyler Deuschle received First Team All-Conference honors. Langlois placed 5th with a time of 24:36.2. in the women's 6000m. Deuschle finished 9th with a time of 28:37.4 in the men's 8000m.