On Saturday, November 4, four Houghton students will present their personal research projects at the 18th Penn-York research conference. With the opportunity for a poster, twelve-minute oral, or artwork presentation, these Houghton students have the opportunity to present alongside fellow undergraduates from the surrounding area at Hilbert College. The conference is an annual opportunity, although this year's students Annetta Snell '18, Rachel Zimmerman '18, Anna Schilke '19, and Katherine Stevick '19, are all attending for the first time.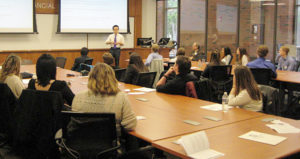 Presenters have the chance to present from any academic discipline, and undergraduates benefit not only from hearing a wide variety of topics, from the science of teeth-whitening to immigration policy, but also from engaging with other students within their own disciplines. "I'd really enjoyed meeting other students in my field and hearing what they were working on," says Sophia Ross, who attended the 2016 Penn-York conference the fall of her Senior year at Houghton.
The students look forward to the conference not only as an opportunity to interact with other undergraduates, but a chance to gain experience and prepare for their various fields. Schilke, who hopes to work in the journalism field, notes, "it seemed like a perfect opportunity to gain experience in the world of academic presentations and to add some substance to my job applications." Ross confirms Schilke's expectations, reflecting, "I worked at my presentational speaking skills, and also gained experience in networking with my peers at Penn-York." She presented literary research from her English Senior Capstone last fall, which centered on Elizabeth Bishop. Her project, entitled "Remembering Mother and Motherland: The Experience of Loss in Elizabeth Bishop's Nova Scotia Prose and Poetry," explored the two years of Bishop's childhood in Nova Scotia and their effect on her later writings.
Schilke, Zimmerman, and Stevick share with Ross a literary emphasis in their research. Schilke's presentation centers on Margaret Gaskell's North and South, "a famous Victorian novel," and the role of its protagonist, Margaret. "Some scholars think she's trapped by her society and the way it limits women, others think she's an example of a woman with unusual agency for her time," Schilke explains. Her analysis of these opposing views concludes "that both are legitimate." Zimmerman, too, explores the Victorian era through the children's fairy tales of George MacDonald. She concludes that both Victorian and Romantic are present in these stories, and "connect, contrast, and overlap."
Stevick, however, departs slightly from the literary emphasis in analyzing a work of literature through a Political Science lens, and Snell's research is actually Psychology based. Stevick explores Shakespeare's Measure for Measure to discern Shakespeare's approach to "the proper relationship between church and state" in his context. Snell…
Ross emphasizes the importance of the conference as a chance for "students in the humanities," noting that "there are so few chances for us to present our work at undergraduate conferences." Schilke shares Ross's appreciation of the opportunity: "Even if the presentation itself does not go well, the process of preparing for it develops necessary skills for anyone interested in academia.