The Houghton Highlander field hockey team is making history this weekend by qualifying for the Empire 8 tournament for the first time.
Although they began their season with a few tough losses, starting out in the conference at 0-3, the team came together at a crucial moment to turn the rest of their season around. "Beating Hartwick was definitely the turning point in our season," Alyssa Strom '18 said. "After that, won our next three conference games which were Stevens Technical Institute, Elmira, and Nazareth."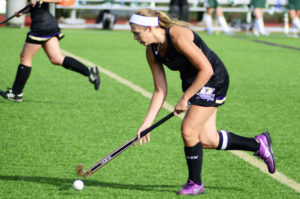 Nicole Jennings '19 echoed Strom's statements. "We had a rocky start, but partway through the season we all came together and decided to play for God and for each other as a family, rather than for ourselves," Jennings said. "This caused us as a team improve tremendously from the beginning of the season. We are playing games together as a unit, which contributes largely to our success!"
For the senior class, qualifying for the Empire 8 tournament is an especially significant accomplishment. "When I came in as a freshman, we only won five games the whole season, and we were last place in the conference," Strom said. "For the seniors, this season is especially huge for us because we've seen this team improve so much within the past four years. Making it to the Empire 8 tournament is a big deal for us."
Aly DeMerchant '18 reflected on what this season has meant for her. "When I look back at my time at Houghton playing field hockey, it's easy to see that each year's has built upon the previous year," she said. "Going to playoffs this year is a testament to the hard work that everyone has put into this team over the last four years. Each year we have improved and grown closer together and it feels like it was all culminating to this opportunity: making it to post-season for the first time ever and we are so thankful for this opportunity."
Coach Hannah Ogden is proud of her girls, who have "put a lot of hard work into making this happen." She recognized the importance this feat holds for the team. "I am so excited to go to playoffs this season, it has been a goal for our program the last few years and we finally made it! It's a well deserved opportunity for this group."
The Empire 8 tournament is another opportunity for the team to demonstrate the disciplines they have cultivated throughout the past few months. "This season had its ups and downs but we stayed committed to taking things one game at a time and focusing on the details," Coach Ogden said. "We often say, 'the small things make the big things happen.'"
Tanya Hatton '18 provided more insight for the upcoming game. "Earlier in the season, we lost to this team 1-0," she said. "But both teams have improved over the course of the season, so I think it will be another competitive match." Houghton will play at noon today at Washington and Jefferson College in the first round of the Empire 8 tournament.