The Symphony Orchestra will be introducing local children to classical music on Thursday, November 9th at a "Klassics 4 Kids" event.  
"Klassics for Kids is actually a brand new outreach program designed to give middle and high school students the opportunity to hear a more advanced level of music than they might be accustomed to," said Kira Browning '18, a graduate assistant for the Orchestra.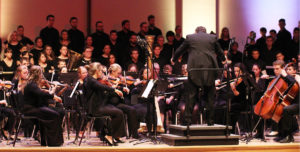 Its event description for the school calendar explained, "It will provide them with the opportunity to hear an orchestra perform in an informal setting and will also include things like instrument demonstrations and some dialogue between the host and audience about historical or general fun facts about the pieces."
"The Houghton Symphony Orchestra (HSO) is providing the music for this first event and we hope to have more ensembles participate in the future,"  added Browning.  "The HSO will be playing selections from the concert on the following night including Mozart's 'Overture to The Magic Flute' and an exciting piece for strings called 'Swamp Thang' by Richard Meyer."  According to the event description, "The works will be a preview of the Houghton Symphony Orchestra's concert on the following night. The hope is that this event will engage the students and inspire them in their own music making."
Monica Fargolia '19 recalled her early interactions with classical music and how she became familiar with it.  "I was introduced to classical music when I decided to play an instrument," she commented.  "My music teacher liked to encourage us to practice by having us listen to the sounds we could potentially produce and educate us on the pieces we were playing."
Browning emphasized the event's intention to work with the kids in helping them to also appreciate and understand the music.  In addition to hearing the concert preview, "the students will be given some relevant background to the piece along with instrument demonstrations,highlighting the possibly unfamiliar instruments and important things to listen for during the piece."  The visiting kids will have the opportunity to observe and learn from the college students.
"This program is inspired by educational performances put on by orchestras like the St. Louis Symphony, where students from all around come and hear the orchestra in an interactive concert setting… This sort of concert-going experience was inspiring when I was a student and our hope is that it will be the same for those who attend on the 9th," concluded Browning.