Long awaited renovations to Paine may be coming soon after visiting architects presented plans to the Board of Trustees for Phase 2 of updates.  According to promotional material released by the Office of Advancement, Phase Two contains five separate projects.  The projects focus on the addition of a fifth floor, remodeling space on the first and second floors for "engineering classrooms, laboratories and offices as well as intentionally designed space for Science Honors", remodeling the Chemistry and Biology labs to allow for teaching laboratories, and creating new spaces for Computer and Data science.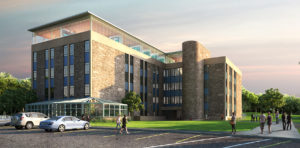 "It's been in the works for years," explained  Karl Sisson, Vice President for Advancement and External Relations.  "We've been driven by two things:  we've had the need, but do we have the finances, from fundraising, to do it?  And the move into engineering precipitates expansion."  The Board of Trustees recently decided Houghton would take on no new capital projects with new capital debt.  All of the money for the new updates, then, must come from gifts and grants.  To complete all aspects of Phase Two, Houghton would need $8.5 million.  We currently have about $2.9 million in gifts and commitments.
Also inspiring the new changes is Houghton's hope to gain state approval for a new engineering major.  "This is the one area that has consistently grown as far as attracting number of students.  The number one most desired major that we don't have currently," explained Karl Sisson.  "We know there's an incredible history of the sciences.  We know that it's very stable and that it's a distinguishable strength of ours, and there is a potential for growth.  And that is why it rose to the surface as a priority for the campaign overall and for the college."
"Engineering will allow us to prepare students for one of the most practical areas of service to our world," said President Mullen.  "Just as Houghton graduates have been prepared for generations to serve in the professions of medicine, law, teaching, clergy—so it would be natural for us to be preparing engineers for service in both this country and around the world."
If approval does come through to add an engineering major, the plan is to add a fifth floor onto Paine.  The math department would move to the new top floor, leaving the second for engineering.  The expectation is to hear back from the state on approval in early December of this year.  If the state does grant approval, plans will continue for the full, $8.5 million project including adding a new floor.  If not, work can start sooner on simply renovations, which would come in at about $5.5 million.
"The upgrades to the Bio and Chemistry area upgrade to the way our faculty wants to teach," explained Chief Business Officer Dale Wright.  "Our professors have been involved all along the way and it creates a lot of what we call 'teaching laboratories'."  An informational brochure explained, "Science and math at Houghton use an experience-based approach to develop talented young people dedicated to using their God-give gifts to actively think about and solve problems with real-world applications."  President Mullen commented, "This investment will communicate even more intentionally Houghton's ongoing commitment to excellence in the sciences."
She went on to add, "Houghton College has been a leader in Christian higher education in preparing graduates in the natural sciences since early in the 20th century.   In this moment, when there are more opportunities than ever for scientists to make a difference in our world for both good and ill, we want to ensure that Houghton continues to provide an excellent context for the sciences to flourish."