On Sunday, November 5, through a partnership with Kingdom Bound, Houghton will host a stop on three-time Grammy-nominated Christian rock artist Crowder's "American Prodigal" tour. The concert will feature hits from Crowder's most recent album, as well as performances by special guests Jimi Cravity and The Young Escape.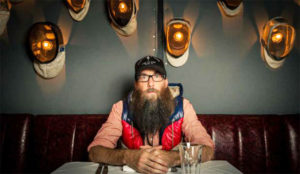 As a part of the David Crowder Band, Crowder earned a reputation for his fresh musicality, elaborate instrumentation, and sometimes contemplative, sometimes cheeky lyrics. His newest offering, according to a review in CCM Magazine, "features every flavor ever served up by David Crowder at one point or another and then some, a delicious array of musical styles brought together to his inimitable gift for melody. Only Crowder could get away with such a set list."
Since the David Crowder Band disbanded in 2012, Crowder's solo efforts have made him a household name on his own. The worship ballad "Come As You Are," featured on his album Neon Steeple, was nominated for the Grammy award for Best Contemporary Christian Music Performance in 2015. American Prodigal debuted at #5 on Billboard's Top Albums and #1 on the Christian & Gospel Album charts.
Hosting popular artists gives Houghton's music industry students a valuable opportunity to learn how to organize large events. "The music industry department tries to help bring a major modern act to Houghton each year," said Hendrick de Schmidt '19, who is on concert staff. "This fall continues that tradition, which has previously included Michael W. Smith and TobyMac. We look forward to helping Crowder's team put on an excellent show for all in attendance."
The college has hosted many prominent Christian music artists in the past, exposing students to the broad range of musical styles within the worship and gospel genres. "I'm not a huge concert-goer, so I always appreciate when Houghton brings in amazing artists like Crowder because it's so easy to go with friends," said Jessica Robinson '18. "When I've gone to the pass concerts like, Tenth Avenue North and Toby Mac, I have loved the experience of worshipping God with so much of the Houghton community.  It's an amazing experience with so many people filling the KPAC with their voices raised to praise our amazing God.  I'm excited to see how God works through Crowder and others who are performing."
The concert is also a part of Houghton's Highlander Preview Day, which provides prospective students with a first taste of college life and events. "I'm really excited for all of the prospective high school students who will be coming to the concert and perhaps encountering Houghton for the first time," said Emily Allen '20. "My first official visit day and tour were the weekend of the TobyMac concert in 2015, and I had a great experience. As a prospective student, it is encouraging to see Houghton bringing in a big name band like Crowder even though it is a small school. It shows how far-reaching we really are."
Tickets to the concert can be purchased at the Kingdom Bound or Houghton websites. General admission tickets are $20. Gold tickets, which include early entry and an exclusive post-show, are $75. The doors of Wesley Chapel will open at 5:30 p.m., with the show starting one hour later.