This past Monday, October 2, Houghton's extension campus in Utica, New York, opened its doors to a group of students who are new not only to college life, but also to the American experience.
Following the success of Houghton's Buffalo extension, which opened in 2013, the new extension was designed to serve the growing refugee and immigrant population in downtown Utica. The extension will offer two-year Associate of Arts degrees to members of the community, particularly immigrants and refugees whose access to a Christian liberal arts education would normally be restricted by their lack of finances or prior academic opportunities. Over the next few years, the extension plans to admit around twenty-five students annually.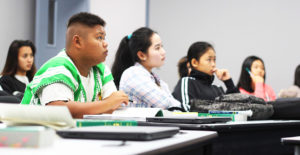 Dr. Mark Caruana, Dean of the Utica campus, came to his role from a previous position as senior pastor at the Tabernacle Baptist Church in downtown Utica. During his twenty years of ministry, he has focused on developing multiethnic ministries and helping his congregation welcome nearly nine hundred ethnic Karen immigrants who had escaped refugee camps in their native Burma. Caruana's experience also earned him a place as a representative to the Burma Refugee Commission of the American Baptist Churches/USA and a spot on the board of directors of the Mohawk Valley Resource Center for Refugees, which provides a range of essential services and resources to recently arrived families.   
The Utica extension's first incoming class was drawn from diverse backgrounds. The majority are English language learners, and most have not benefitted from a formal post-secondary education. Nearly all are first-generation college students. Many have fled danger or poverty in their home countries. However, Caruana believes that the students' experiences have also given them the strength and courage to tackle these new challenges. "These same students are resilient, hard-working, engaged, and hopeful," he said.
Over the past several years, the city of Utica has earned a reputation for its robust integration programs and welcoming attitude toward refugees. Immigrants from many countries and ethnicities now make up nearly 20 percent of the city's general population. Around four hundred are resettled within the Utica borders each year, many from areas of the world that have been ravaged by war, disease, or other hardship.
The curriculum blends Houghton's traditional liberal arts approach with a unique emphasis on workplace preparation and English speaking and writing proficiency. Students can earn degrees across a wide variety of disciplines, including literature and writing, history, philosophy and theology, communication, mathematics, and fine arts. Specialized business classes will prepare graduates to enter the workforce or start their own ventures, while intensive tutoring sessions will help them keep up with the demands of a high-quality education. Students will also participate in internships around the city, helping them to gain experience in the private sector.
Although Caruana's main ambitions center around giving students a rigorous education and preparing them to enter the workforce, he also values the opportunity to embody Christian hospitality and service. "Ministry is always relational and contextual," he said, adding that he hoped to build not merely a college campus, but also a "caring learning community in which we know our students by name and walk alongside them in a supportive role."
"I believe Houghton College Utica is another expression of Houghton's core commitment to serve its neighbors in Allegany County, across New York state and the nation, and around the globe," Caruana said. He also invited anyone connected to Houghton to participate in the new extension's goals and mission: "We are part of Houghton College and welcome Houghton students and faculty to visit us and experience Houghton College Utica for themselves."