After surviving one-third of a semester as the new dining service on campus, Metz Culinary Management is working hard to satisfy the various dietary requirements of students and to promote sustainability and environmental stewardship.
Metz Culinary Management sets high corporate standards. Advertising that they "bring you the best on-campus food program with a variety of tastes that is sure to please," Metz is concerned not only with appealing to the wide-ranging nutrition preferences and needs of students and faculty, but also with prioritizing sustainability and minimizing the company's imprint on the environment. Metz also voices a commitment to providing vegetarian, vegan, and gluten-free options daily. For students with dietary restrictions like these, it is vitally important for Metz to dependably live up to this pledge.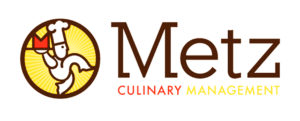 From the perspective of one first-year student who consumes a vegetarian diet and preferred to remain anonymous, Metz has so far done a satisfactory job of providing vegetarian options. She noted that, despite her dietary restrictions, "There is always something I can eat." However, this student also pointed out that "sometimes there is not a variety" among the vegetarian options. In spite of this, she has been satisfied overall with the diversity and quality that Metz offers with regard to her vegetarian requirements.
Likewise, in the opinion of Alexis Lamb '18, Metz is doing well at providing nutrients for her limited diet. Lamb is restricted to consuming wheat-free foods, and she appreciates the simplicity of the gluten-free section provided by Metz. This station in the dining hall, which generally serves a meat, a grain, and a vegetable option, offers a reliable source of nutrients for Lamb and other students limited to gluten-free foods. As a senior, Lamb cannot help but compare Metz with their predecessor, Sodexo. She decided that Metz is "definitely a step up from Sodexo. More fresh, I think."
However, Lamb did have a recommendation for Metz: "One thing I really liked about Sodexo was that they had the labels that said what was in the food," the upperclassman recalled, "so right now [with Metz] there are items that I'm not sure if there's wheat in them, so [labels] would be helpful." Despite this point of criticism, Lamb described herself as "definitely satisfied" with the gluten-free food options provided by Metz.
Aside from their commitment to serving quality food for students with various dietary restrictions, Metz Culinary Management is also dedicated to sustainability. On their corporate website, Metz states, "We pledge to be environmental stewards by working closely with clients, sustainability partners and vendors on dining concepts, products and programs that meet your needs while protecting resources for future generations."
According to the Houghton College's sustainability coordinator, Brian Webb, "Metz actually walks the talk." In Webb's opinon, the college as a whole benefits from this transparency and dedication. Webb explained, "Metz has already begun investing in significant water and energy conservation measures in the kitchen that are projected to save the college thousands of dollars by reducing water usage, cutting electricity, and conserving heat in the building." Moreover, Webb praised Metz for putting "their money where their mouth is" by "investing $15,000 every year in Houghton's campus sustainability initiatives." Regarding Metz's commitment to sustainability, Webb concluded, "I'm very proud to have them on campus."