Homecoming 2017 kicks off this Friday night with its annual Collage Concert.
This concert features nearly every ensemble in the Greatbatch School of Music. According to Dr. Armenio Suzano, the Dean of the Greatbatch School, the concert "will be a collection of not only different styles, genres, and groups of people, but it will also be a collection of everything that music has to offer in terms of beautiful compositions…both sacred and secular, traditional and contemporary, from classical to jazz. It will be literally a celebration of life, color, and Christian spirit." The School of Music uses this concert to both maintain tradition and display the multitude of diverse talents its students possess. It is a way for the school of music to join the larger community in celebrating the past and anticipating the future of what God is going to be doing at Houghton College.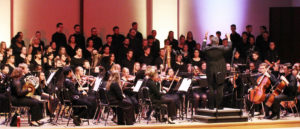 The ensembles that will be performing at the homecoming Collage Concert include Gospel Choir, College Choir, Houghton Acappella, Houghton Symphonic Wind Band, and the Houghton Symphony Orchestra. Although some of these ensembles are relatively new, each one boasts a rich history in the Greatbatch School of Music. The respective ensembles have been preparing for this concert since the beginning of the semester. Many hours of work are have been devoted to creating such an extravagant display of talent, including several extra hours of rehearsal time in the week leading up to the concert.
The concert will also feature several solo performances. Dr. Judy Congdon, professor of organ and harpsichord, will debut one of her original solo organ arrangements. Mrs. Amanda Cox, instructor of voice, will be performing the comical and divergent "The Girl in 14G." Dr. William John Newborough, professor of piano and Director of Piano Studies, will also be performing a solo piece.
Professors both old and new will direct the concert, including Dr. Daniel David Black, Director of Choral Activities; Dr. Tim McGarvey, Director of Instrumental Activities; Mr. Jerome Bell, class of '15 and 3rd year graduate student; Mrs. Amanda Cox; and Dr. Armenio Suzano.
As is tradition, the Collage Concert will feature a powerful performance of "Total Praise" which features nearly every musician in the Greatbatch School of Music. "Total Praise" exemplifies the level of musical talent and Christian devotion that the Greatbatch School of Music strives to display. Dr. Suzano stated that the entirety of the Collage concert will display the "high level of excellence that is a trademark of everything that we do at the Greatbatch School of Music and at Houghton College."
The 2017 Homecoming Collage Concert will take place in the Wesley Chapel on Friday October 6 at 8:00 pm. Free to all.