This year for National Poetry Month, Houghton's Department of English and writing will host two visiting poets on campus.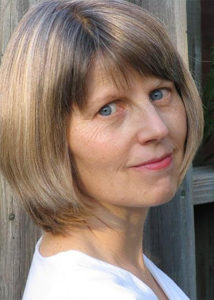 The first of the visiting poets is Suzanne Rhodes, a New York native who now makes her home in Virginia Beach and teaches at the Muse Writers Center. The author of five books of poetry and lyrical essays and a finalist for the Pushcart Poetry Prize and the Library of Virginia Prize, Rhodes is currently at work on her second full-length poetry collection. She describes her work as an exploration of "the natural world with its Otherness and beauty ever summoning, and the human complicated, often contradictory human self." After sharing a short on-campus poetry reading on Monday, she had dinner with students from the department and answered questions about her work.
On April 24, Canadian poet, Suzanne Nussey '74, will visit Houghton to read excerpts from her published works and sharing insights into her writing process, which she says "hope(s) to bring to light something that was previously invisible to me, to find out what some part of me already knows but has not reached the level of language." Nussey, a Houghton alumnus, has won the Nick Blatchford Occasional Verse Contest and the 2014 National Magazines Award, and has published articles and poems in a variety of publications.
Professor of English, Linda Mills-Woolsey, a published poet herself, invests great worth in the experience of hearing from accomplished and experienced authors. "The immediate value is getting to know about another writer," she said. "If you have the chance to talk to other writers, they become part of your network." In the past, visiting writers have given aspiring writers valuable advice and have been open to students contacting them later for advice and feedback. This makes  these events especially valuable for those who wish to enter the writing community or even consider publication.
Mills-Woolsey also emphasized the value of interacting with "people who once sat where you are sitting now," and who have learned to transfer academic truths into their lifelong writing practice. While both Rhodes and Nussey have advanced degrees, they are also women who have balanced careers, family responsibilities, and creative pursuits. While Nussey describes her Houghton education, particularly the influence of fellow poet Jack Leax, as "foundational in my development as a writer," she also said a lifetime full of diverse experiences has given her "more self-confidence as a writer, more empathy, an ear for different voices, and a real appreciation for the absurd."
Both writers have drawn on own experiences as well as poetic tradition, providing a model for student writers who have other career ambitions.  "Each of them decided not to go the full academic route, to do other things," Mills-Woolsey shared. Rather than pursuing a career as a full-time writer or professor, Rhodes remained at home to raise her children, work with various homeschooling groups, and write grade school curriculum materials, while Nussey has worked as an editor, teacher, and tutor.
"These sorts of writers are accessible," Mills-Woolsey said. "They give you useful patterns for the writing life, because not everyone is going to be famous one day." She believes that these two particular writers showcase the rewards of "keeping at it."
For those who may be unable to attend the events but still wish to hear from these exemplary poets, Suzanne Nussey offers a few words of encouragement for aspiring writers: "Expect to go through periods, sometimes seemingly unending, of self-doubt, bad writing, or no writing at all. This is pretty common for most writers I know. Pay no attention to the little devil on your shoulder who says you're a failure. Be patient."