Victoria Pitre, a graduate student at the Greatbatch School of Music, was one of eight national finalists at the 2017 American Choral Directors Association (ACDA) national conference.  The competition for the ACDA took place on March 9 in Minneapolis.
Daniel Black, Director of Vocal Music and Conducting, said of the ADCA, "The membership is more than 20,000 representing more than one million singers across the United States."  Black continued, "[The competition] has been around for many years and takes place at every national ACDA conference. For choral conductors, it is widely known."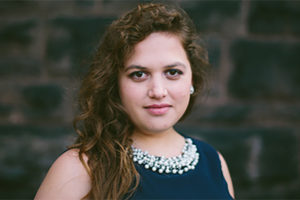 To qualify for the competition, Pitre conducted two pieces which changed meter. "Last October, we arranged for Victoria to record herself conducting the Houghton College Choir in a twelve minute video," Black explained. "Additionally, she was not able to work with the choir prior to the recording so they were prepared by me. My goal was to have the choir function at a very high level so that she could spend her twelve minutes shaping the music they produce to her liking."
"Victoria's [also] incredibly gifted when it comes to conducting," commented Carolynne Waddington '19, a fellow music student. "Whenever she conducts us in College Choir, everyone responds so well.  She has so much energy that just radiates off her and makes its way to us. She is so talented and the school of music is so blessed to have her."
Black went and said "The competitors were looking at gesture, rehearsal technique, and demeanor on the podium. Each graduate student had only eight minutes to work on two pieces with a choir they had never heard before. Obviously, with that kind of constraint, efficiency in achieving one's goals is paramount."
Chosen from over a hundred applicants, Pitre successfully secured one of the eight national finalist positions along with an invitation to compete at the conference.  She is the first student from Houghton college to receive this honor, according to Armenio Suzano, Dean of the Greatbatch School of Music.

"It is a testament to the music program offered at Houghton College that one of our students was selected to be in that small, extremely select group,"Suzano said.  "Furthermore, it reflects the unwavering commitment of the Greatbatch School of Music and our Music faculty toward excellence in all levels of music education, regardless of style or genre – from Opera, to Collaborative, to Technology, to Worship.  Uncompromising, relentless pursuit of musical excellence, with solid Christian values. Victoria Petri's ACDA competition is a validation of that mission"
"Victoria has many accomplishments in and out of the music building.  She is such a wonderful person that lights up any room she walks into," Waddington added.  "She has one of the most beautiful singing voices and I'm so happy she has been able to really show it off this year."
"Having the fact that I was a semi-finalist on my resume will be something that helps to establish to future employers that I have a solid skill set," Pitre recognized. " Also, I had the opportunity to meet the other competitors, and network with peers who have similar strength of goal and vision for the future.