Our annual Film Fest is a time to grab your best friends, put on something your parents won't let you wear to church, and celebrate the diligence and craft of our peers as each new film flashes across the wall. Kudos to C.A.B. of course for choosing professor Gaerte and Steve Dunmire to host. Both performed their duties amicably over the course of the night.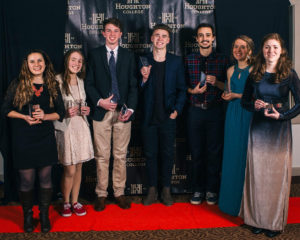 As far as the films were concerned, I will say that I was impressed. After a relatively lackluster showing from last year, and the departure of Film Fest giants like Olivia Graziano '16 and Derek Booker '16, I had relatively low expectations as far as quality was concerned. But thanks to a fresh crop of talented newcomers my concerns have greatly diminished.
The Drama category was definitely dramatic so we're off to a good start. The winner, Between Two Pines directed by and starring Meredith Guffey '17 follows its director through a mystical wood as she searches for a better cell phone signal. I was personally more of a fan of Jakin Rintelman 17's Lotted, which tracks the emotional and psychological toll that the guilt of losing a significant other has on its protagonist. Both had great bits of editing, but I do think that Lotted succeeded in telling a more cohesive and engaging story even if the theme of death has been way overdone. To all future Houghton filmmakers, people do not have to die for there to be drama in a story. Death can certainly be done well, but I've been going to Film Fest for four years and in every single one there has been at least one film about the death of a girlfriend. I'm used to dogs dying in movies, #letthegirlfriendslive.
The Sorrow Estate deservingly won the Best Music award for the video of their song "Faces and Places" featuring everyone's favorite vocalist who we wish hadn't transferred out, Laura Johnson '17, and filmed by Jonan Pilet '17. Though the lip-syncing didn't always match the singing in the video it was beautifully shot and struck a nice tonal balance between the music and lyrics.
Next came Best Animation, one of my favorite categories just because of the pure creativity behind each project. And while Robert Kuchar 17's minimal absurdist project A Day in the Life of Ian brought me all kinds of joy, I agree with the Academy's decision to honor Emma Carpenter 18's The Kite War as the superior film. It had a great aesthetic and style to it. The colors were vibrant and the story was really cute; sort of like Shel Silverstein's The Giving Tree if the tree was a little bit creepier.
Best Comedy went quite deservingly to Dreamemes. If you haven't seen it, you owe it to yourself to drop some acid and give it a watch. Any lover of memes and frantic editing should love Benny Munkittrick 18's short film. I laughed the hardest at his, but the other two entries, The Note and The League of Extraordinary Shentlemen are both great in their own rights. This might have been the strongest category. Don't actually do acid, please.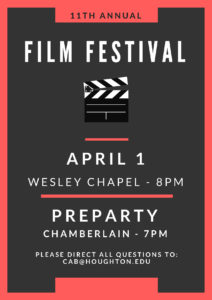 Lars Ljungolm '20 walked away with a few awards on the night, one for Best Cinematography rightly going to Show Reel and one for Best Short. I'm biased in my admiration for Lars' work, but I am confident that as of right now he is the best videographer on campus. His style is distinct and his composition of shots is unmatched, so I look forward to seeing how he matures as an artist over his next three years, even if I may not be around personally to see him at Film Fest.
If there were any snubs, I'd say that Judith Marklin '17 was one of them. To Be Nepal and I Caught This Morning specifically; these two films were gorgeous. The latter, I Caught This Morning had some of my favorite shots of the whole night. The diversity in locations, in lighting, in subjects; it was a mood, a special feeling that it evoked. I wish Judith had won something because considering the entirety of her body of work, it would be her films and their internationally transcendent subject matter that most closely embody the pinnacle of filmmaking that Houghton has to offer.
I wish I could describe the rest of the films in greater detail and credit the other artists for their contributions, (Melissa Maclean '17, Melissa Maclean, Melissa Maclean) but to see every film for yourself you can watch them on the Houghton College Film Fest page on YouTube.