Every year since 1990, Houghton College has selected one of its faculty members to receive the Excellence in Teaching Award. This award is intended to recognize, publicly acknowledge and reward faculty for outstanding teaching. This year, Ron Oakerson, professor of political science, is the recipient of this honor.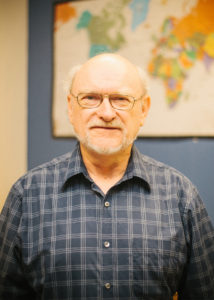 Oakerson completed his undergraduate studies at Taylor University, then continued on to earn a Masters degree and a Ph.D. in Political Science from Indiana University. The end of this semester will mark his twenty-fifth year of serving at Houghton, including two years as the chair of the department of history and political science, and seven years as the academic vice president and dean of the college.
Faculty colleagues of Oakerson have "unquestionably" noted him as "one of the college's top scholars." They admire his ability to "devise new, creative, and innovative classroom experiences" that create a "remarkable" educational experience for his students. Peter Meilaender, professor of political science, said, "Ron is a tremendously innovative teacher who has continued to experiment with new approaches. He has developed multiple new courses, and he has introduced an important element of fieldwork into his teaching."
Oakerson is passionate about bringing students into an unfamiliar environment where they come face-to-face with issues that are only understood when experienced. "Increasingly, I have been more interested in getting students out of the classroom," he said. "I love the classroom, but I also think students need to come into contact with people who are immersed in doing things and accomplishing things and reflecting on how they do and accomplish these things."
Issues related to community governance and international development have taken Oakerson and his students to numerous communities around the country and around the world. In his course on urban governance, Oakerson has taken students to meet and talk with government officials and community leaders in Buffalo to interact with principles they learn in the classroom. Perhaps his most well-known endeavor would be the "Mango Out-Growers Project," a joint outreach of Houghton College and World Hope International that Oakerson has led in Sierra Leone since 2009. In this experience, students engage in field research in the rural villages of Sierra Leone and investigate various issues that are related to development. "For many of those students, it has been a life-changing experience," Oakerson said.
"The 'Mango Project' has been a remarkable opportunity for students not only to put their political science study into practice, but also to perform Christian service at the same time," Meilaender said.
One of the most important lessons Oakerson has learned over the past 25 years of teaching at Houghton has been the value of respect in the classroom. He said, "I'm sure I have not always succeeded in this, but my effort and my aim has always been to try to accord respect to students for their thoughts, their ideas, and their articulation of those ideas."