At seven this morning, the College Choir departed for their week-long tour of the East Coast. Their path includes performances at nine different churches and several schools.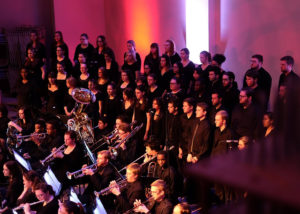 "The College Choir tours to re-connect with Houghton alumni, engage with prospective students, promote the college to those in communities we visit, and provide an opportunity for current choir members to perform at a high level in a variety of quality performance spaces," stated Director Daniel Black.  According to Black, the choir has been touring for decades, continuing the long tradition of Houghton excellence that started when Wilfred Bain founded the College Choir in the 1930's.
The tour this year is planning to make stops in a variety of states, including Pennsylvania, New Jersey, Connecticut, and Maryland. Per graduate assistant Alessio Tranchell, the first performance will be in North Wales, Pennsylvania at a Lutheran Church on Main Street and the week will finish out with a performance of the National Anthem at a Rochester Red Wings baseball game. Choir members will get to stay and watch the game afterwards. Of the places on the itinerary, Black was most excited about performing at the New Life Church in Maryland, the Aisquith Presbyterian Church which is the regular host of the Maryland State Boychoir, a nationally recognized group, and his own home church in Rochester. Choir members are perhaps most excited for stop the choir will be taking in New York City.
As the choir tour falls over holy week (ending the day before Easter), Black had no easy task selecting songs. "I started with pieces with which I had a personal connection" he said, "and that I thought the choir would like and sing well. As the list of pieces grew, the theme that emerged was that of gratitude for the many blessings God bestows on us." Black's song list is a little bit of everything, representing a range of styles. From Bach to Italian Madrigals to contemporary gospel pieces, few genres are missing. The set will end with the standard piece Give me Jesus, which is sung at the end of almost every college choir concert. Black's theme of thankfulness splits itself into five different categories, sung sequentially throughout the program. "I identified a few categories of things for which I think we ought to be thankful," he added, "and finished the program by finding pieces that fit into those categories."
College choir members are looking forward to traveling together and performing. "I've never been on tour with the choir," said member Gabrielle Sheely '19. "It sounds like a lot of fun. Members have been working on some of the pieces since the beginning of the year, and are excited to get to perform them."
"It's a great opportunity" added Gena Hartman '19, another member.
"What I love most about this process is that I have the privilege of bringing together students from many different backgrounds, majors, and walks of life, in order to build something beautiful that points the singers and our audiences to Christ," stated Black. "I believe that part of our responsibility as Christians is to work to renew the world, to be the new Jerusalem here on earth, and that putting things of beauty, such as music, into the world, is part of fulfilling that responsibility."
Dates and locations for the tour are available on the Houghton website.