Spring sports are entering their last week of regular season play. Every team faces an Empire 8 opponent, which gives them an opportunity to improve their record and a chance to squeeze into a conference playoff spot.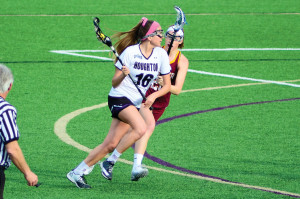 In the third year of their program, the men's tennis team could ensure an Empire 8 tournament berth if they finish among the top four teams in the conference. "If we can beat Alfred and Nazareth than we have a chance of going to the conference playoffs," said Head Coach, Charlie Ellis. Currently the team's overall record is 9-6 and their conference record is 4-2. Last weekend, the team pulled out two stellar wins against the Hartwick Hawks and the St. John Fisher Cardinals. It was their first win over St. John Fisher since joining the Empire 8 conference three years ago. "This supporting cast daily has pushed every top player in practice and supported them in the matches," said Ellis. "They have been sweating and fighting daily to get the entire team ready to play." Earlier this month, Chase Rangel '16 was named the Empire 8 Men's Tennis Play of the Week for his victories in singles matches and double matches, with the help of his partners, ending the week of April 10. "They all get along very well and they are enjoyable to coach which is part of the reason for their success this season," added Ellis.
The men's baseball team's record, unfortunately, does not reflect the hard work and small wins that they have had this season. Currently the team is 13-20 overall and 3-10 in the Empire 8 conference. However, having a fairly new team comprised of mostly freshman and transfers, incoming players have had to step up and fill big roles on the team. "We lost a lot of pitchers last year and some guys who played a big part as leaders on the team," commented Michael Knapp '16. Head Coach, Brian Reitnour added, "[We] are a fairly young team and my ultimate goal is to see us develop an identity that reflects our core values." During the middle of the season, the team had a six game winning streak where they rallied from deficits to win games, but it was snapped due to a split with the Penn State-Beave Nittany Lions. On April 7, the Highlanders played for over six hours and nineteen innings against the Alfred State Pioneers. The game resulted in a split where the Pioneers won the first game 5-4 in 11 innings, and the Highlanders scored three runs in the bottom of the eighth inning to win the second game 4-3. "This season has been better than we expected it to be" said Ethan Duryea '18. "Collectively we have played more as a team this year than we did last year."
Both teams have games this week and possibly next week, depending on how well they play.  The Highlanders will take on the the Stevens Ducks on their home field at 6 p.m. Friday, April 29, and at 12 p.m. and 3 p.m. on Saturday, April 30. The men's tennis team will take on the Alfred Saxons on their home  court at 4 p.m. Friday, April 29.