I'm a vegetarian and I love to eat. (Seriously, just watch me chow down some of my Cuban mother's bean stews with giant helpingsfull of rice.) But, recently, being able to eat healthily at school has become a problem.
At the beginning of this semester, the cafeteria closed the much beloved vegetarian and tofu oasis adorably named "The Wild Mushroom" in favor for introducing an allergen-free bar called "Simple Servings." While the introduction of an allergen-free station is definitely a welcome addition, the closures of both the vegetarian and stir fry bars drastically limit the entree choices of vegetarians and vegans, not to mention meat-eaters that might prefer a vegetarian option.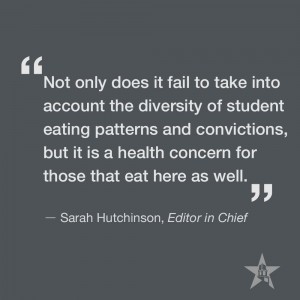 For the curious, a vegetarian plate is much like a meat-eater's; a nutritional balance separated into protein, plants, and grains (but sans meat in the vegetarian's case.) A good vegetarian entree (read: "main dish") possesses the qualities of being healthy, hot, flavorful, and generally includes a protein source like beans or soy. Regretfully, we have seen too few entrees of that nature in the cafeteria this semester and the vegetarian population on campus, not just myself, have become concerned.
For example, if you've been following the cafeteria comment board, comments by fellow vegetarians calling for viable vegetarian entrees have been prolific since the new changes. Unfortunately, the official responses to these requests seem to be misunderstanding the problem. In response to a request asking for more vegetarian entrees, the cafeteria respondent to the comment proceeded to list "options" (not "entrees") which included, of all things, a listing for bagels. (Yes, bagels are good for breakfast, but they are not what vegetarians can eat everyday for dinner or lunch.) The other "options" listed in the response included vegetable side dishes to the main line meals (which, as we all know, are often unseasoned), cold salads, soups (which I have learned not to trust since accidentally ingesting some made with meat-based broth), and the very rare entree.
Some fellow vegetarians and I (plus some meat-eating friends) have gotten creative in response to these developments. We now combine our resources, spend money on extra groceries, and cook a huge vegetarian meal together every Friday evening. I've loved every minute of that fellowship and it feels good to have a belly full of delicious food. However, is it right that I'm spending money that I don't have on extra food when I'm already paying for a pre-paid meal plan?
On that note, it could be said that perhaps the cafeteria is merely responding to the larger financial crisis impacting our campus, prompted by the drop in enrollment. A smaller student body means a more limited ability to purchase a variety of food, thus prompting the cafeteria to limit some options. However, the point stands that while meat-eaters can enjoy both vegetarian and meat options, vegetarians cannot eat the meat options. What are we supposed to do?
The campus cafeteria gets many things right; the addition of the allergen-free bar is one of them. However, the closure of the vegetarian and stir fry bars is a definite wrong. Not only does it fail take into account the diversity of student eating patterns and convictions, but it is a health concern for those that eat here as well. The good news is that it appears as if the situation has been turning around in the past week; I've had more options available at the various stations. I'm hoping that these options are here to stay.
Now, pass the baked ginger tofu and the kale quiche, please.