After recent renovations, Houghton's new Alumni House is almost ready to welcome former students and their families.
Previously used for student housing, the Alumni House underwent significant changes to become what President Shirley Mullen, described as a "place on campus set aside specifically for alumni—for them to network among themselves and with students." Mullen says the house will give returning alumni a place to stay with their families in addition to "making it clear that we value alumni."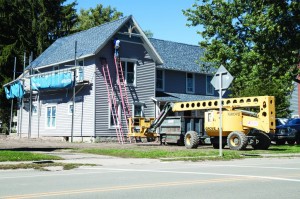 Numerous alumni have contributed to funding the renovations for the house, which Mullen estimated to cost between $550,000 and $600,000. Daniel Noyes, executive director of alumni relations, said that "the project was 100% funded by gifts from alumni, particularly alumni from families who have a strong connection with the college." The names of rooms in the house honor nine of those families: the Luckey, Essepian-Tysinger, Stevenson, Ries, Larder, White, Mills, Alderman, and Mullen families.
Joshua Derck, building trades leader, said that the renovations on the Alumni House were extensive and included work on walls and ceilings, heating and cooling systems, plumbing and electrical services, and windows, siding, and gutters.
The house also received changes to meet "ADA (Americans with Disabilities Act) requirements: a fully accessible room as well as access to the building," Derck said. "So the updates were for usage and cosmetic. This is a virtually new building."
Anna Maria Johnson, a 2001 Houghton graduate who lived in the Alumni House while it was still student housing, said that she has "mixed emotions" about the changes to her old home. She talked about the "incredible community" that formed among the women living in what was then called Walldorf House and described the shared dinners, Bible studies, and book discussions that added to her "formative…and meaningful experience" there. However, she also said it is "fun to think that we could come back and have a reunion in the house where we lived."
The opinions and views expressed in the Houghton Star do not necessarily reflect the opinions and views of Houghton College or the Wesleyan Church (our sponsoring denomination).